Overview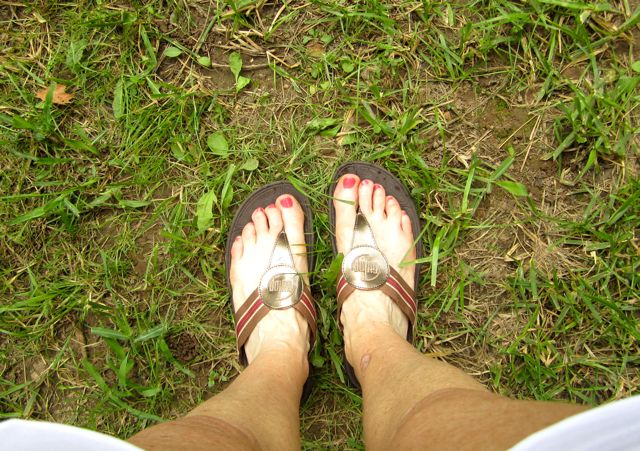 Flat feet- or fallen arches- refers to a condition of the foot in which the arch of the foot collapses while standing (or in some extreme cases, even when no weight is applied to the feet), causing the sole of the foot to become flat.
Causes
There are many different causes of flat feet, which can be separated into two main categories. The first category, congenital flat foot, is a condition that one is born with or is predisposed to at birth. This type includes the completely asymptomatic, pediatric flexible flat foot-by far the most common form of congenital flat foot. Flexible means that an arch is present until weight is put on the foot, at which time the arch disappears. This foot type is a result of the fact that all people are born with different physical features. Some people have bigger noses than others, just as some people have flatter feet (of course, there is no known correlation between the two). Any alteration in the many building blocks of the foot can influence its shape. At the other end of the spectrum, yet within the same category of congenital flat foot, exist several rare, more severe forms of flat foot. These severe conditions include Vertical Talus, Congenital Calcaneal Valgus, and Tarsal Coalitions - all of which are more rigid (no arch with or without weight on the foot) and definitely symptomatic. Luckily, these are much less common, but can usually be identified by specialists at the time of presentation and treated appropriately. The second category, acquired flat foot, develops over time, rather than at birth. Many different factors can contribute to the development of flat feet. These include the types of shoes a child wears, a child's sitting or sleeping positions, compensation for other abnormalities further up the leg, or more severe factors such as rupture of ligaments or tendons in the foot. Very commonly, the reason for flat feet is that the foot is compensating for a tight Achilles tendon. If the Achilles tendon is tight, then it causes the foot to point down, or to plantarflex (as occurs when stepping on the accelerator of your car). Even minimal amounts of plantarflexion can simulate a longer leg on that particular side, assuming that the other foot is in the normal position. The body therefore tries to compensate by pronating, or flattening out the arch, thereby making up for the perceived extra length on the affected side.
Symptoms
The primary symptom of fallen arches is painful or achy feet in the area in which the foot arches or on the heel. This area may become swollen and painful to stand still on. This causes the patient to improperly balance on their feet which in turn will cause other biomechanical injuries such as back, leg and knee pain.
Diagnosis
Flat feet are easy to identify while standing or walking. When someone with flat feet stands, their inner foot or arch flattens and their foot may roll over to the inner side. This is known as overpronation. To see whether your foot overpronates, stand on tiptoes or push your big toe back as far as possible. If the arch of your foot doesn't appear, your foot is likely to overpronate when you walk or run. It can be difficult to tell whether a child has flat feet because their arches may not fully develop until they're 10 years of age.
fallen arches support
Non Surgical Treatment
Most cases of flatfeet do not require treatment. However, if there is pain, or if the condition is caused by something other than normal development, there are several treatment options. Self-care options include rest, choosing non-weight-bearing exercise (e.g., swimming, cycling), weight loss, and avoiding high heels. Flexible flatfeet with some pain can be relieved with the use of orthotics-shoe inserts that support the arch-and/or heel wedges (in some cases). If pronation is a factor, special shoes can be worn that lift the arch and correct the inward leaning. Physical therapy may also be prescribed to stretch or lengthen the heel cord and other tendons. For rigid or inflexible flatfeet, treatment varies depending on the cause. Tarsal coalition if often treated with rest and the wearing of a cast. If this is ineffective, surgery can be done to separate the bones or to reset the bones into a correct position. If the flatfoot is caused by an injury to the tendons in the foot or ankle, rest, anti-inflammatory medications (e.g., ibuprofen), and the use of shoe inserts and ankle braces often relieve symptoms. In severe cases, surgery is performed to repair the tendon or to fuse some joints in the foot into a corrected position to reduce stress on the tendon. The prognosis after surgery is generally good. Complications include pain and some loss of ankle motion, especially when trying to turn the foot in or out. This may be improved with physical therapy.
Surgical Treatment
A better approach is to strengthen the weakened ligaments with Prolotherapy, supplemented by an arch support if the condition has existed for several years. Chronic pain is most commonly due to tendon and ligament weakness, or cartilage deterioration. The safest and most effective natural medicine treatment for repairing tendon, ligament and cartilage damage is Prolotherapy. In simple terms, Prolotherapy stimulates the body to repair painful areas. It does so by inducing a mild inflammatory reaction in the weakened ligaments and cartilage. Since the body heals by inflammation, Prolotherapy stimulates healing. Prolotherapy offers the most curative results in treating chronic pain. It effectively eliminates pain because it attacks the source: the fibro-osseous junction, an area rich in sensory nerves. What?s more, the tissue strengthening and pain relief stimulated by Prolotherapy is permanent.